How to find your IMEI number in iCloud Lock & Hello Screen iOS 15 To 12.4
How to find your IMEI number in iCloud Lock & Hello Screen Using www.icloudpasswordactivation.com
Find IMEI Number activation lock screen iOS 15 To 12.4
How to find your iPhone IMEI number the right way? In this post I will show you 5 easy methods to get your iPhone 15 digits IMEI number. So that you will be able to get full information about your iPhone, unlock it or remove iCloud activation lock.
This guide doesn't need any special skills, just follow any of the below method to find your iPhone IMEI in less than a minute.
Supported Devices: Bypass iCloud Activation Lock iOS 15.0 To iOS 12.4
iPhone 12 Pro MAX
iPhone 12 Pro
iPhone 12
iPhone 12 mini
iPhone 11 Pro MAX
iPhone 11 Pro
iPhone 11
iPhone XS Max
iPhone XS
iPhone XR
iPhone 8
iPhone 8 plus
iPhone X
iPhone 7
iPhone 7 plus
iPhone 6s plus
iPhone 6s
iPhone 6 plus
iPhone 6
iPhone SE
iPhone 5S
iPhone 5C
iPhone 5
iPhone 4S
iPhone 4
iPads
iPod
Method 1: Find iPhone iPad iPod  IMEI ( iCloud Locked )  via Hello Screen Running iOS 15 To 12.4
Find IMEI code from the Activation Screen on your iPhone, iPad or iPod Touch
If you restored your iPhone or iPad recently, but it's not activated yet or it's iCloud locked, you can find the IMEI code from the activation:
you can see the sign saying (i) on the right-bottom screen corner
Click (i) , to find your IMEI number, same as on the image below: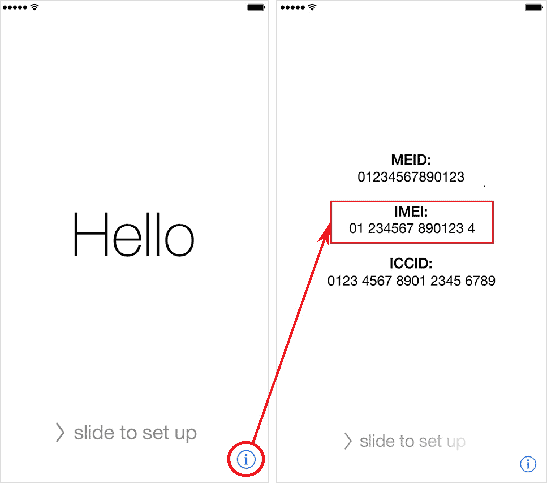 Method 2: Find iPhone IMEI via "About" Menu
From your iPhone home screen, hit the Settings App > General > About > IMEI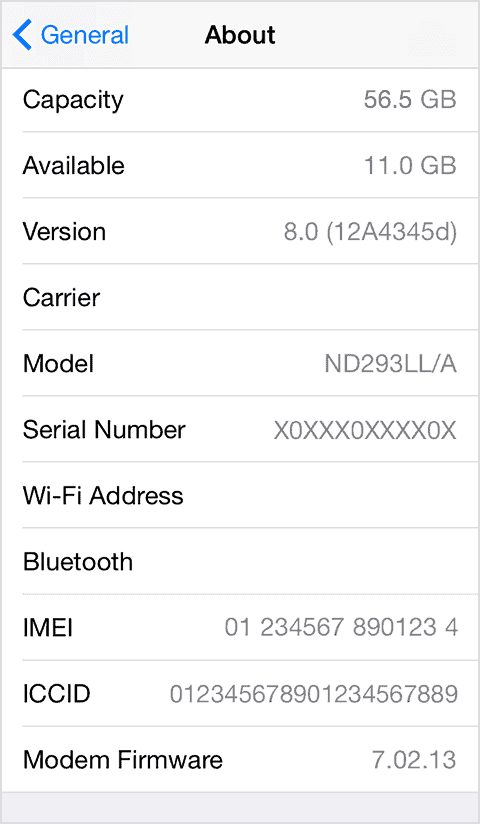 Method 3: Find iPhone IMEI Number via Phone App
Simply open the dial pad (Phone app) from your iPhone home screen then dial *#06#"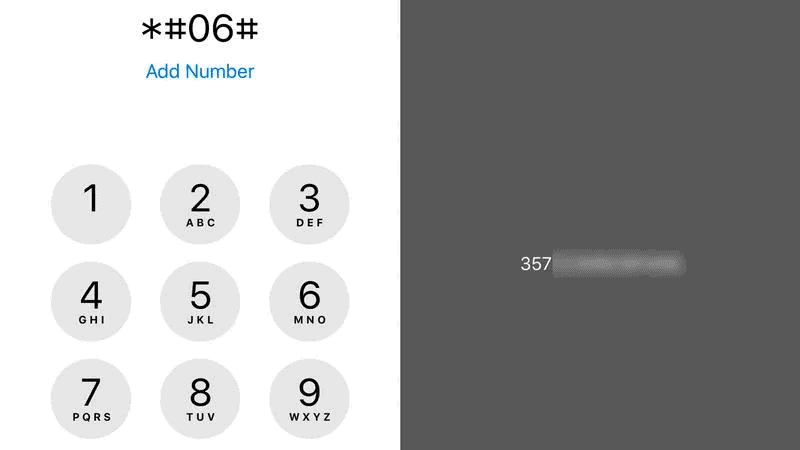 Method 4: Find iPhone IMEI Number on SIM Tray
You can find your iPhone IMEI number printed on the SIM tray as show below.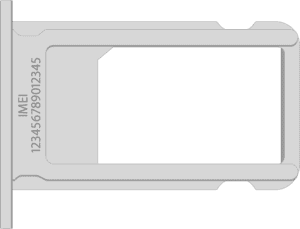 Method 5: The IMEI Code Running iOS 15 To 12.4 is Engraved on the iPhone's back side
You can easily find the IMEI code of your iPhone 8, 7, 6S, 6, 6 Plus, SE, 5S, 5C or iPhone 5 on the back of the device. The IMEI number is engraved on the back side of your device.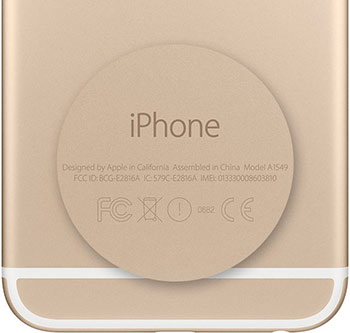 How to find the serial number or IMEI for your Apple Watch
Check the case of Apple Watch